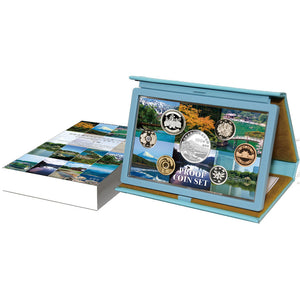 2022 Japan Historic Sites Proof Set
Regular price $299.00 Sale
This special Japan Mint 2022 coin set celebrates 100 Years of Japan's protection of its historical, heritage sites. Of the 15,000 sets to be released, the Japan Mint has declared just a staggering 89 sets to be sold outside of Japan.
Comprising all 6 of Japan's 2022 circulating coins, in perfect Proof condition, the set is also highlighted by a special one-year-only commemorative medal struck in sterling silver. The medal's obverse depicts one of the many preserved Japanese historic sites.
Highlights:
Contains Six Japanese legal tender coins issued in 2022 in perfect Proof quality (a 500 yen nickel-brass coin, a 100 yen cupronickel coin, a 50 yen cupronickel coin, a 10 yen bronze coin, a 5 yen brass coin and a 1 yen aluminium coin)
A sterling silver medal, featurign a Japanese historic site
Special deluxe wallet packaging.
Only 89 sets issued outside of Japan.